meet our therapists
TYLER KOONTZ, LSW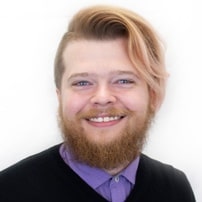 Tyler Koontz is a Licensed Social Worker (LSW) in the mental health field since 2014. He graduating from the University of Illinois. He spent the majority of his early career in Addictions and Crisis counseling with a local Non-Profit. Additionally, he works with adolescents, adults, men, and women, from the ages 11 and up. Furthermore, he specializes in all forms of chemical addiction and mental health disorders. For instance, mood disorders, to anxiety, to personality disorders, and beyond. 
Tyler's treatment modalities is a combination of Cognitive Behavioral Therapy (CBT), Dialectical Behavioral Therapy (DBT), and Motivational Interviewing. Additionally, he relies on humor when appropriate to build rapport with clients. He believes in meeting clients where they are. Furthermore, he focuses on how he can best support them in their mental health journey. 
Tyler is passionate about working with the LGBTQ+ community and dedicates himself to being an Ally and advocate. 
Interesting Fact #1: Tyler has a rescued Shiba Inu named, Rue.  
Interesting Fact #2: He has a history in rocket science. 
Read Tyler's blog post "Breaking the Cycle of Guilt and Shame: A Therapist's Personal Journey About Sexuality."
INTERESTED IN WORKING WITH TYLER KOONTZ, LSW?
Contact our Client Care Team to see his availability!