THANK YOU FOR CHOOSING US
WRITE A REVIEW
How has your experience been with us?  
We truly value our clients and want to ensure they are receiving the best experience possible. Choosing therapy is a huge step (and an important one at that). If you'd like to recommend Elliott Counseling Group, please click on your preferred location to leave us a review.

Prefer To Leave A Facebook or Yelp Review?
We love the power of social media. Click the button below if you'd like to leave us a review on Facebook or Yelp.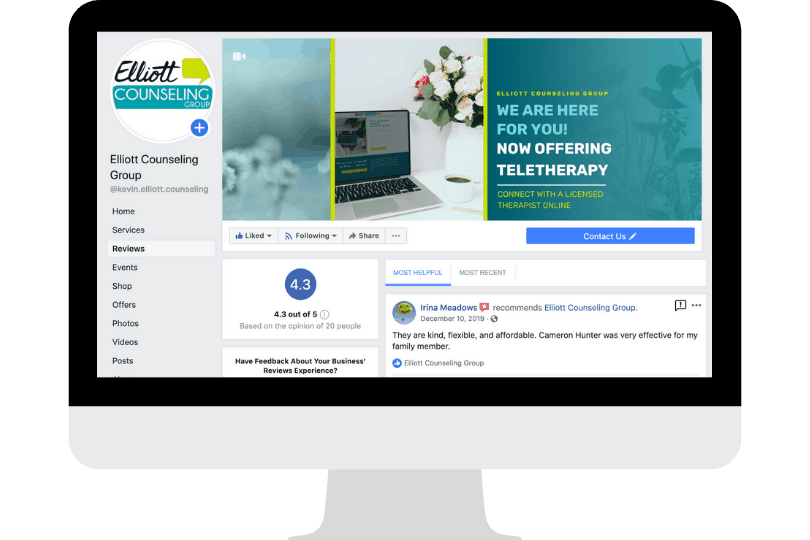 If you'd like to provide feedback confidentially we would still love to hear from you. Contact us via [email protected]
What Our Happy Clients Are Saying About Elliott Counseling Group
For me Elliot Counseling has provided one of the best psychological care experiences I've ever had. However, I want to stress that this may not be the same for everyone. Everyone has different needs for their mental health, and need to find a specific therapist that they click with. Don't be discouraged if some therapy groups have a few bad reviews, therapy is very personal to the individual. Make your own judgements.
They are kind, flexible, and affordable. Cameron Hunter was very effective for my family member.
Absolutely recommend! As a family, we have used several of their counselors and had awesome outcomes.
I have been helped tremedously!! I would recommend them to everyone!!