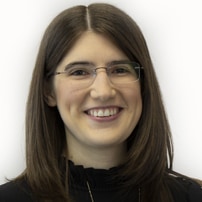 Rachel Bunyard is a Licensed Clinical Professional Counselor (LPC) and specializes in working with children, adolescents, and adults who have experienced trauma and want to improve their coping skills and overall mental health. Emotional and psychological trauma can make you feel helpless and Rachel is here to help you find hope and heal from your trauma. She has worked with clients with a wide range of life challenges such as sexual assault, sexual violence, post-traumatic stress disorder (PTSD), substance abuse, anxiety, depression, eating disorders, self-harm, personality disorders, Executive Functioning Disorders, and many others.  
From an early age she has had a passion in helping people which made therapy and counseling a natural fit for her. Once she learned about the field of counseling, she knew that was the career path she wanted to pursue.  Rachel received her Master of Science in Clinical Counseling from Eastern Illinois University and was a counselor for the crisis hotline at the Sexual Assault Counseling and Information Service (SACIS) in central Illinois. While working at SACIS she gained experience in helping adult and children survivors of sexual violence. She has also worked at a rehabilitation organization helping clients who faced drug abuse, alcohol abuse and chronic mental illnesses. She is also specially trained in Eye Movement Desensitization and Reprocessing (EMDR) which is used in helping clients overcome trauma and anxiety. Rachel's therapy modalities include Cognitive Behavioral Therapy Dialectical Behavioral Therapy, and EMDR. 
Interesting Fact #1: She is a member of a local dog club and enjoys learning how to better understand (and train!) her mini Labradoodle, Gus. 
 
Interesting Fact #2: In her free time, her guilty pleasure is making a "quick" buck through money-making phone apps. 
INTERESTED IN WORKING WITH RACHEL?
Contact our Client Care Team to see her availability!