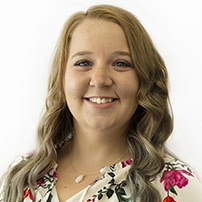 Jessica Giroux is a Licensed Professional Counselor (LPC) and received her Master's in Clinical Mental Health Counseling from Eastern Illinois University. She also has foundational studies in neuroscience, which she feels gives her knowledge of psychology a scientific base about how the mind and the physical brain work together in regards to trauma, stress, and other mental health challenges. She often incorporates this into her sessions with clients in an easy-to-understand manner to understand more about the unique challenges they are facing. Jessica is also a Certified First Responder Counselor (CFRC) which allows her to more specifically support them in the experiences they have. With family members in these professions, she is very passionate about supporting this population. In addition to working with the First Responder Population, Jessica also works with pre-teens, teens, adolescents, young adults, and adults. She specializes in people who are survivors of trauma, depression, and anxiety. When it comes to her therapy modalities, she meets the clients where they are with a person-centered approach and leverages a combination of Rational Emotive Behavior Therapy (REBT) and Cognitive Behavioral Therapy (CBT). 
You can schedule an appointment to see Jessica at our Urbana location or via Telehealth.   
Interesting Fact #1: Jessica is a huge hockey fan, and the St. Louis Blues is her favorite team.   
Interesting Fact #2: Jessica has been fascinated by ambulances, police cars, firetrucks since she was a little girl and is in a relationship with a first responder. Becoming a CFRC allowed her personal life and her professional life to collide together. 
INTERESTED IN WORKING WITH JESSICA?
Contact our Client Care Team to see her availability!