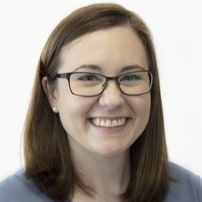 Emma Lorimor, LSW, brings a warm smile and gentle approach to each of her therapeutic relationships. She has a background in working with families, adults, and specializes in working with children. Emma is passionate about utilizing Play Therapy approaches with children as she believes this gives them an opportunity to express their thoughts and emotions in ways that their limited vocabulary does not allow. She enjoys working with children who are experiencing challenges with attachment and adjustment, are affected by foster care and/or adoption, have complex family systems, have behavioral concerns, and those who just need a little extra support.  
Although Emma specializes in working with young children and families, she also enjoys working with adolescents, tweens and teens, individual adults and couples. She often works with those experiencing parenting stress, depression, anxiety, and addictions.  
Emma utilizes a Person-Centered Approach, Dialectical Behavior Therapy (DBT), Cognitive Behavioral Therapy, and is trained in Play Therapy. She's prepared to meet a client wherever they are emotionally and support them however she can.  
Services with Emma are available in our Champaign office.  Learn more about our play therapy services here. 
Interesting Fact #1: Emma loves to travel and see new places, and particularly loved her most recent trip to Ireland! 
Interesting Fact #2: In her free time, she likes to play Candy Crush and has admitted to have achieved "embarrassingly" high levels. 
INTERESTED IN WORKING WITH EMMA?
Contact our Client Care Team to see her availability!