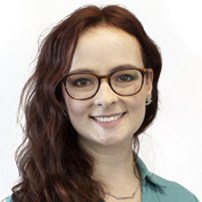 Analise Atchison is a Licensed Social Worker who is passionate about working with people who have experienced trauma and supporting them where they are in their healing process. She has a background in working with those who have experienced sexual assaults and traumas, as well as relationship violence and abuse. 
Analise is dedicated to being an ally for the LGBTQ+ community and enjoys working with clients who are navigating any issues and challenges associated.  
She also works with youth to provide education regarding how to establish and understand healthy boundaries, as well as consensual relationships. She utilizes many approaches while working with this type of client, including play therapy. 
Analise is comfortable working with children, teens, college students, and adults on a variety of issues, from anxiety, and depression, to gender dysphoria, and more. She also welcomes Elliott Counseling Group's therapy dog, Mack, into sessions at the client's request. 
Analise utilizes a Client-Centered Approach, as well as other modalities including Cognitive Behavioral Therapy and Dialectal Behavioral Therapy. 
Interesting Fact #1: Analise likes to spend her free time picking up new hobbies, but her favorites include watercolor painting, embroidery, and hiking.
Interesting Fact #2: She is an animal lover and has 2 rescue dogs, a cat, and a bearded dragon. 
INTERESTED IN WORKING WITH ANALISE ATCHISON, LSW?
Contact our Client Care Team to see her availability!